Last summer I spent some time discussing various problems associated with the demolition of the City's residential structures with Michele Johnson, an East Side Housing Activist. MIchelle is best known for her work as the Broadway/Fillmore Housing Court Liason and prime-mover in establishing the Anti-Flipping task force -
see first press conference
. She produced
Flipped
, the movie along with Marc Odien from
WNYmedia.net.
Michele just started blogging, too -
News from aBroad.
She encouraged me to research the idea and how we might be able to initiate change in how the City handles demolitions. We discussed four different models of "deconstruction" or the re-use of old construction materials. Intuitively it makes lots of sense. Here's the introductory post from last summer -
Deconstructing Buffalo - Part I
. I posted
here
to Cyburbia and gathered information about four projects that are up and running around the country.
The folks at
Buffalo ReUse, Inc.
have got the ball rolling.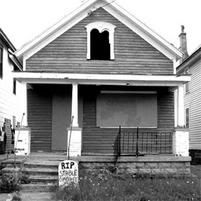 Situated in the heart of the Rust Belt, Buffalo, New York is a city that has known the sweetness of success, as well as the ache of loss. Today, as one drives through its neighborhoods, a single story emerges from behind the broken windows and boarded-up doors: a community that once benefited from the boost of economic sustainability and regional pride must now dig beneath the rubble for what resources it has left. If history is ignored, and the potential for renewal set aside, then there is little hope for the health of our city.
Michele has been raving about the Habitit for Humanity Re-store on Amherst Street. I'll check it out in the next few days.
Last nite while riding home, I spotted dozens of solid core maple and birch doors in the dumpster over at Performing Arts. I grabbed some and talked with a couple of the school's maintenance guys. They were busy refinishing old metal desks for the start of the school year and told me about the incredible waste going on with the one billion dollar Joint Schools Reconstruction Project. Seems like our tax dollars paid for cherry and oak moldings, doors and paneling that got the dumpster treatment at some of the other schools recently. I felt good as I told them about the 300' of maple trim that I snagged last week from the dumpster. They told me there was lots more...
update...
Michele just
re-posted an article
from
Artvoice
that appeared earlier this year about deconstruction and re-use.
__________________________________________________________________________
Artspace Archive
•
Annals of Neglect
•
BAVPA
•
Where is Perrysburg?
•
Broken Promises...
Writing the City
•
Woodlawn Row Houses
•
Tour dé Neglect - 2006
• faq