Last week we heard about the death of Waldemar Kaminski.
The Buffalo News story
shared a few parts of this man's remarkable life with readers. I also spotted this in the paper...
THANK YOU WALDEMAR: Just when Buffalo seems down and out, bereft of friends and losing population, the life of Waldemar Kaminski emerges on the front page. A humble butcher, he lived modestly over his East Side store. But he had a secret, he was a wizard behind that curtain of quiet who invested successfully in the stock market and gave his money away. A few who knew of his generosity came forward after his death Wednesday, detailing the millions of dollars he gave to help children with cancer, the poor, the disabled and the orphaned. This is Buffalo, a city with heart, with strong values borne of hard work. We know there are other WaldemarKaminskis in our city, because this place is filled with good people, caring people.
Donn Esmonde said it best
in this column
over the weekend.
It was the best story I could never write.

Four years ago, the elderly owner of a small deli/grocery on the East Side was beaten and robbed. Female thieves bashed Waldemar "Walt"Kaminski's head with a can of V-8 juice from the grocery shelf and made off with cartons of cigarettes. It was not the first time he had been attacked.
I visited the deli soon after. I met a tough, stubborn piece of the past who stayed in the old neighborhood even as it changed around him. He stood bent, but not broken, dre ssed in a flannel shirt and wearing a blue cap. Behind thick glasses, his eyes were alive.
I wish I had taken the time years ago to meet Mr. Kaminski. Today I stopped by his store. While the neighborhood is literally falling down around 1315 Broadway and while taking these photos, one neighborhood resident that I spoke to shared with me, "like, the man gave away food man..." This morning Kaminski's store still radiated an old world charm. Someone had just placed these lillies over the store's entrance.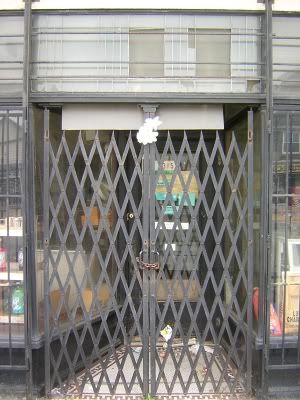 A Lexis-Nexis search revealed that Mr. Kaminski had been robbed and beaten numerous times...

March 26, 2003 A Gittere Street woman was arrested Tuesday in connection with the Sept. 21 robbery of an elderly convenience store owner on Broadway. Vokira U. Small, 19, was charged with first-degree robbery. She is accused of attacking Waldemar Kaminski, 85, in his Kaminski Foods store at 1315 Broadway. Police said Small and two other women beat Kaminski in the face with several cans before making off with several packs of cigarettes. It was the

eighth time

the store had been robbed in two years. Kaminski suffered severe scalp lacerations as well as bruising and swelling around his eyes, head and face.
May 20, 2002 -- A 19-year-old man arrested Sunday a block from Kaminski's Deli on Broadway shortly after it was robbed of $30 at gunpoint. Owner Waldemar Kaminski, 84, said a man entered the deli, asked for a turkey and baloney sandwich, then pointed a gun at him and demanded, "Give me the money." Police said Carl Funderburk of Ashley Street allegedly left the store with about $30 and was stopped at Broadway and Milburn Street. The young man carrying a BB pistol and crack cocaine in his jacket pockets, was charged with felony robbery, felony use of a firearm, possession of stolen property and illegal drugs.

Sort of makes you wonder if a program like
ChicagoCrimes.org
, that I've been linking to on the left hand side of this blog for the past year, might be a good addition to the citi-stat program Byron's been promoting.