Yesterday afternoon I e-mailed Eva Hassett, Exec. VP at Savarino. I shared my concerns regarding the un-secured construction site that Savarino Construction is developing for Artspace behind 1219 Main Street, right next to the current Post Office at the corner of Main and Northampton. The gates have been left wide open and as you can see the holes that that have been created for what appears to be some sort of environmental remediation present an invitation for neighborhood kids.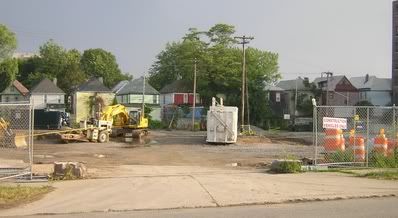 Eva Hassett assured me
, in an e-mail that this danegerous situation would be fixed.
update 7/1/06 6:30pm
construction gate is now properly secured and locked...thanks!
Twenty-four hours later, it hasn't
. These pictures were all taken around 6:30pm today, Friday June 30th. No one was present at the site. Neighbors are concerned as they are forced to walk in the street around the construction fencing that's currently blocking the sidewalk on Northampton. Keep in mind that Northampton is about the most travelled side street in Midtown by drivers and pedestrians as the 14209 Post Office is 100 feet away at the corner. Lots of neighborhood residents walk to the Delta Sonic Deli store, too!
It's a long holiday weekend. I'm sure construction crews won't be returning 'till Wednesday morning. I guess we'll wait and see if a totally preventable accident occurs over the long weekend. I know, if this sort of project was happening on Elmwood Avenue, the site would be secured.

And so it goes...welcome to the East Side!
btw...remember this from last summer, over on Jefferson Avenue!