Artists + Opportunity = Hope for Buffalo
I had the unexpected opportunity to tour the property located at
669 Genesee Street
recently. I am not a structural engineer, general contractor yet after 15 years of real estate experience here in the city of Buffalo I realize that this could be an extraordinary urban opportunity. This is a city owned property and occupies half a city block. The primary building has three floors (50x100) and the two additional buildings on the property are smaller. In addition, city records show that there are two additional vacant parcels adjacent to the main building. Here's
the official property description
from City Hall.
*** New ***

Exterior photos:
Interior photos: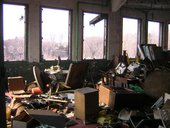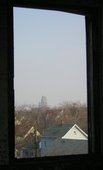 click to enlarge


*** New ***
Craig, from
Buffalog
, just passed along
additional pictures
of 669 Genesee Street.
Most of those are 669 pics, some not.
Craig also shared this aerial view he grabbed.
click to enlarge
Here's
a cool satellite view
, too!
Make sure to check out
Craig's accoun
t
of our recent tour!
My experience suggests that this building could be purchased from the city for less than the price of a tall house coffee on Elmwood Avenue. The building presents some immediate liability issues and so you would need the advice and guidance of a competent real estate attorney who is familiar with the acquistion of city property. To complete the deal you'd probably want to present your plan to Housing Court Judge Nowak, too. You would be a Housing Court Hero!

It's the perfect opportunity for the right person or group. You'll have to move quickly. The city has ear-marked this property for demolition. According to my best information the bulldozers are around the corner. The estimated demolition cost is pegged at 250K +


The view from the roof is spectacular...counting the steeples was like counting stars on a summer nite...I got lost. Think of the possibilities for summer time parties and entertaining in this totally unique urban SpOT! Think of the ultimate urban living experience...

Feed back from e-mail:

A drug dealer made the top floor their pad about 10-15 years ago if i remember correctly. Genesee Street has any number of great buildings that will go the way of the bulldozer. If these buildings were secured, cleaned up, and MARKETED the city could begin to make a small dent in the problem. Problem is, the dreamers are never the ones with the money to do these projects.
Like, what would it take for the city to re-direct some of the funding for the demolition and properly secure, board and moth-ball the building for future use. Is this to innovative and creative for our elected official to understand...Am I expecting too much?