Tumbling Down the "Rabbit Hole"
Wednesday morning I had the opportunity to talk with local Housing Activist & Fillmore District Housing Court Liaison
Michele Johnson
. She has encouraged me to
photo-document
a number of her projects and expose new housing and real estate developments here on the city's east side. Frequent readers of this blog understand that a primary theme and part of my developing urban critique is the city's negligent stewdardship and owership of real estate. While many housing activists turn their attention to "flipping scams" I've focused my attention on various properties owned by the city of Buffalo itself. Examples of this documentation include -
Woodlawn Row Houses
,
Wollenberg Grain Elevator
,
669 Genesee Street
,
JN Adam site in Perrysburg
.
So, this morning I set off to photo-document four city owned properties. Jay Lynch, Marketing Manager in the Division of Real Estate had recently given me a catalog of city owned property. I called Michele to let her know that I was venturing into her area. Needless to say, at the end of the day and after just sharing pictures with Michele Johnson, she was as shocked with what I had discovered as I was. I choose two vacant and two "occupied" (surprise, yes the city is a landlord) houses to investigate.
So as I tumbled down the "rabbit hole" of malice and neglect I first looked at
1290 East Ferry Street
. Here's the
city's official property description
for 1290 East Ferry. No one was home so I didn't have the opportunity to ask questions about the landlord. Playing, "I-spy...building code violations" I quiclkly noticed what I thought were at least four exterior violations. Peeling paint, rotted front stairs,
missing down spouts
and a
crumbling chimney
.
1290 East Ferry - Owner, City of Buffalo
click to enlarge

Leaving East Ferry I drove down Nevada and over to Koons Avenue. This past weekend the street was on the news as the city experienced four brutual murders at 320 Koons Avenue. Well, looking at the catalog of properties that Jay Lynch had provided, I figured that the city's un-occupied house at
319 Koons Avenue
might be a good place to investigate. I was not disapointed. Here's the
city's official property description
for 319 Koons Avenue.
319 Koons Avenue - Owner, City of Buffalo

click to enlarge
Nice little house. Too bad the city didn't sell it a few years ago or consider just giving it away. The place is being "demolished by neglect." Here in this little block of Koons there are four houses directly accross the street from that horrendous crime scene where four people were recently murdered. Yet, the city's house at 319 Koons Avenue is the only one wide open like this. I quickly looked to see if the new boiler was still there that the Division of Real Estate's description said was recently installed. Lots of other stuff was missing, too.
The third city of Buffalo property I investigated was in the heart of Broadway/Fillmore. On my way to Clark Street I had the opportunity to chat with city of Buffalo Building Inspector Tracy Krug. He's doing an excellent job with his blight busting crew in this part of the city. Michele Johnson often tells me about the diligent work this guy is doing.
I took a closer look at 24 Clark Street. Here's the city's official property description.
24 Clark Street - Owner, City of Buffalo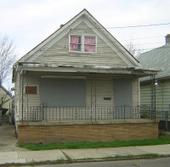 click to enlarge

I learned from the neighbor in the white house on the left that the city has owned this house for four years. She is not able to sell her house, where she has lived for close to 40 years, as the derelict condition of the city's house prevents this. From the front porch, I took this now familiar shot.

The fourth house I investigated was the highlight of my tour of city of Buffalo owned property. Mark Benson and his wife have been the city of Buffalo's tenants at
158 Clark Street
for four years. Here's the
city's official property description
. I learned from neighbors that Mark Benson is out everyday making sure the neighborhood stays clean.
Mark openly shared a number of details of his tenancy with the city of Buffalo. It's not a pretty picture, city as Landlord. During the past four years at his own expense he has
replaced rotted floors
throughout the house, installed
a new hot water tank
and
a new furnace
. He has attempted to negotiate a roof repair with John Hannon, Director of Division of Real Estate. Here you can
see the damage
to his living room ceiling caused by the water leaks. We are looking at a bucket during a rain storm. John Hannon reportedly told him, "if you don't like the place, *%#*ing, move!"
Dealing with John Hannon reached a crisis point recently as Mark Benson and his wife were threatened with an eviction. Mark tells me that he with held two months rent to help off-set the cost of the new furnace. After explaining this to the Judge recently the eviction was over turned and Mark and his wife were allowed to stay.
There are a number of other "Landlord from hell" stories that Mark told me. This included the water department showing up on a regular basis to turn the water off at the street. According to the "occupancy agreement" Mark shared with me, the Landlord is clearly responsible for the water. Must be one of those communication problems between John Hannon's Department and well...who really knows.
Mark Benson also told me that he has attempted to negotiate the purchase of 158 Clark Street with John Hannon but to no avail. Mark is the kind of guy you want on your side. Smart, affable and seriously involved with the daily goings-on here on Clark Street. While talking with him out front, everybody walking, riding or driving by took a moment to chat with him. He's very concerned about the condition of this property next door at
160 Clark Street
. (See these pics,
here
and
here
.) You'll never guess who the owner is...ok,
here's the city's official property description
. Mark, told me that John Hannon has offered this property to him for $700.00! While refusing to negotiate with him for the sale of the house where he has lived with his wife for these last four years...Mark told me that I was the first person knock on his door in four years asking about the property.
I'll be asking the city for supporting legal documentation regarding the ownership history of these properties and hope to get some answers as to why none of these properties - 1290 East Ferry, 319 Koons, 24 and 158 Clark Street - have "For Sale" signs or have never been offered for sale at the annual city property auctions.
Hold on...something tells me that we'll be tumbling down this "rabbit hole" for a good long time.